VBOX Video Data Loggers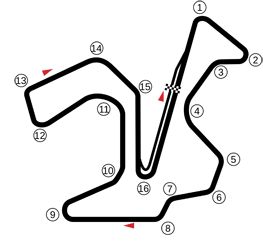 We offer a vast database of circuits with our products. To ensure you are using the latest Track Map Database download the latest version of firmware, setup software and Circuit Tools analysis software.
For instructions on updating VBOX Video HD2 firmware and software click here.
For instructions on updating Video VBOX firmware and software click here.
Performance Box / Drift Box
PB/DB customers may wish to download these files individually in order to set their unit up prior to a track event, or to load into Performance / Drift Tools software. A zip folder containing all the start lines in .dsf format can be downloaded here. Instructions on how to how to load a DSF (start line) file can be found here.
Last updated: 07 Jun 2018 - Click on country to open list of available track maps
Argentina
Autodromo Roberto Jose Mouras
Buenos Aires A
Buenos Aires B
Buenos Aires C
Buenos Aires Combo
Buenos Aires D
Buenos Aires E
Buenos Aires F
Buenos Aires G
Buenos Aires H
Circuito De Rosario Combo
Protrero de los Funes
Australia
Adelaide Parklands Circuit
Albert Park
Barbagallo
Baskerville
Bathurst
Broadford Raceway
Calder Short
Calder
Collie RaceTrack
Hidden Valley Raceway
Homebush
Lakeside Queensland
Mallala
MC Motorsport Main Track
Morgan Park Raceway Circuit
Newcastle Street Circuit
Philip Island
Queensland Raceway Club Circuit
Queensland Raceway Combo Circuit
Queensland Raceway National Circuit
Queensland Raceway Sportsman Circuit
Queensland Raceway Sprint Circuit
Sandown Raceway
Sydney Motorsports Park - GP
Sydney Motorsports Park - Long
Sydney Motorsports Park - North
Sydney Motorsports Park - South
Symmons Plains
The Bend International
The Bend GT
Townsville
Wakefield Park
Winton
Winton Short
Austria
Red Bull Ring
Salzburgring
Bahrain
Bahrain International Circuit
Bahrain Paddock Circuit
Belgium
Mettet
Spa Francorchamps
Zolder
Brazil
Autodromo Internacional de Cascavel
Autodromo Internacional Nelson Piquet
Campo Grande Track A
Campo Grande Track B
Curitiba
Guapore
Interlagos
Nova Santa Rita
Santa Cruz do Sol
Taruma
Velo Citta
Canada
Area 27 Short
Area 27
Calabogie
Canadian Tire Motorsports Park DDT
Canadian Tire Motorsports Park
Gilles Villeneuve
Mission Raceway Park Road Course
Mont Tremblant
Toronto Motorsports Park Full Course
Toronto Motorsports Park North
Toronto Motorsports Park West
Vancouver Island Motorsport Circuit
Chile
Autodromo Leydaring
Autodromo Interlomas
Autodromo Huachalalume Chica
Autodromo Huachalalume Grande
Codegua
China
Beijing Goldenport Motor Park
Chengdu Circuit
GIC
Macau Grand Prix
Nanjing Wantrack
Ordos International Circuit
Shanghai Ext Turn4
Shanghai GP
Shanghai Tianma
Zhejiang East
Zhejiang West
Zhejiang
Zhuhai
Colombia
Croatia
Cyprus
Achna Speedway
Achna Speedway - Full runway
Czech Republic
Denmark
Jyllands-Ringen Combo
Jyllands-Ringen GL
Jyllands-Ringen NY
Padborg Park
Ring Djursland
Saellandsringen
Estonia
Sauga Circuit Audruring
Sauga Circuit Combo
Sauga Circuit Long
Sauga Circuit Short
Finland
Ahvenisto
Alastaro
Alastaro Longer
Botniaring
Botniaring Full
Kemora
Motopark
Seinajoki
France
Abbeville
Ales Rapide
Ales
Anneau Du Rhin - 3.0 km
Anneau Du Rhin - 3.7 km A
Anneau Du Rhin - 3.7 km B
Anneau Du Rhin_C
Bresse
Carole
Chambley
Chenviers
Croix-en-Ternois
Dijon
Dreux
Ecuyers
Fay de Bretagne
Folembray
Geoparc Long
Geoparc Short
Grand Sambuc
LaFerteGaucher
Le Luc
Le Mans Bugatti
Le Mans Full
Ledenon Club
Ledenon
Loheac
Magny Cours Club
Magny Cours
Mas du Clos
Monaco
Mornay
Nogaro
Pau Arnos
Paul Ricard 1A-V2
Paul Ricard 1C-V2
Paul Ricard 1C-V2 Blancpain
Paul Ricard GtDrive
Paul Ricard Le Castellet
Paul Ricard Piste GT
Paul Ricard Short
Paul Ricard Short_without chicane
Val de Vienne
Georgia
Rustavi International Motodrom
Germany
Bilster Berg Gesamtstrecke With Chicane
Bilster Berg Gesamtstrecke
Bilster Berg Ostschleife With Chicane
Bilster Berg Ostschleife
Bilster Berg Westschleife
Estering Combo
Euro Speedway GP 3.4km
Euro Speedway GP 4.3km
Euro Speedway GP 4.5km
EuroSpeedway 2 Mile
EuroSpeedway Combo
EuroSpeedway GP 3.2km
EuroSpeedway GP 3.4km Inc. Turn 1
EuroSpeedway GP 4.5km Inc. Turn 1
Gross Doelln
Harzring
Hockenheimring Grand Prix
Hockenheimring Short Track
Motorsport Arena Oschersleben
Nordschleife
Norisring
Nurburgring 24Hr
Nurburgring BTG
Nurburgring GP without MB Arena
Nurburgring GP
Nurburgring VLN circuit
Porsche Leipzig A
Porsche Leipzig B
Sachsenring
Greece
Hungary
Hungaroring
Pannonia-Ring
India
Buddh International Circuit
Chennai
Indonesia
Italy
Adria
Autodromo dell'Umbria
Castelletto
Fiorano
Franciacorta
Imola - without chicane
Imola
Lombardore
Misano
Modena
Monza Combo
Monza without Chicane
Monza
Mugello
Nardo Handling Track
Ortona
Pista Tolmezzo Full
Pista Tolmezzo Outside
San Martino
Vallelunga Full
Vallelunga Outer
Varano de Melegari Short
Varano de Melegari
Japan
Autopolis
Ebisu South
Fuji Driftcourse
Fuji Speedway
Honjo
Maze
Motegi
Nikko
RA Hanno
Sendai Highland
Sodegaura Forest Raceway
Spa Nishiura Motor Park
Sugo
Suzuka
TI (Okayama)
Tsukuba
Latvia
Malaysia
Sepang
Sepang Combo
Sepang North Loop
Singapore GP
Mexico
Autodromo Bosques del Angel
Autodromo Hermanos Rodriguez
Moises Solana Circuit
San Luis Potosi
Netherlands
New Zealand
Hampton Downs
Highlands Motorsports Park Combo
Highlands Motorsports Park_A
Highlands Motorsports Park_B
Highlands Motorsports Park_C
Highlands Motorsports Park_Full
Manfeild
Pukekohe Park Raceway
Ruapuna
Taupo Motorsport Park Combo
Taupo Motorsport Park Track 2
Taupo Motorsport Park Track 4
Teretonga
Timaru
Norway
Artic Circle Raceway
Rudskogen
Vålerbanen
Phillipines
Batanges Racing Circuit A
Batangas Racing Circuit B
Clark International Raceway
Poland
Portugal
Bombarral
Circuito Vasco Sameiro
Estoril
Kartodromo Fatima
KIP
Park Algar
Qatar
Russia
Grozny
Kazan Autocross Ring
Kazan Ring
Miachkovo
Moscow Raceway
N-Ring (A, B and C)
Ramenskoe
Samara-Ring
Smolensk
Sochi
Slovakia
South Africa
Aldo Scribante
Dezzi Raceway
East London GP Circuit
Killarney
Knysna Hill Climb
Kyalami
Midvaal Raceway
Phakisa Freeway
Red Star Raceway
Zwartkops
South Korea
Ansan
Inje Speedium
Korea International Circuit
TaeBaek Racing Park
Yong-In Speedway
Spain
Albacete Old
Alcarras
Almeria
Ascari
Calafat
Catalunya
Catalunya GP
Circuit Ricardo Tormo Valencia
Circuito de Cartagena
Guadix
Jarama
Jerez
Monteblanco
Motorland Aragon with Chicane
Motorland Aragon
Motorland AragonGP
Navarra A
Navarra B
Navarra C
Navarra Combo
Parc Motor Castelloli
Rennarena Mallorca
Sweden
Anderstorp Raceway
Falkeberg Raceway
Gellerasen Circuit
Gotland Ring
Kinnekule
Ljungbyhed Park
Mantorp
Mittsverigebanan
Ring Knutstorp
Sturup Raceway
Sviestad
Taiwan
Penbry Combo
Penbry Drag Strip
Penbry FIA International
Penbry National
Penbry North Oval
Penbry South Oval
Thailand
Bangsaen Street Circuit
Chang
Nakhonchaisri Motor Sport Complex
PAW
Turkey
Istanbul Park
Korfez
Pinarbasi
Ukraine
United Arab Emirates
Dubai Autodrome Club Circuit
Dubai Autodrome Combo
Dubai Autodrome GP Circuit
Dubai Autodrome International
Dubai Autodrome National
Dubai Hill
Yas Marina Corkscrew
Yas Marina GP
Yas Marina North Corkscrew
Yas Marina North
Yas Marina South
United Kingdom
Aintree Sprint
Anglesey Club
Anglesey Coastal
Anglesey Combo
Anglesey International
Anglesey National
Bedford Autodrome East
Bedford Autodrome GT
Bedford Autodrome North
Bedford Autodrome South
Bedford Autodrome SouthWest
Bedford Autodrome West
Blyton Park Short
Blyton Park
Brands Hatch Combo
Brands Hatch GP Circuit
Brands Hatch Indy Circuit
Bruntingthorpe Combo
Bruntingthorpe Full
Bruntingthorpe
Cadwell Park
Carver Barracks
Castle Combe Western Sprint
Castle Combe
Croft
Curborough
Daytona MK
Donington Combo
Donington GP
Donington National
Dunsfold Top Gear
Dunsfold without Runway
Dunsfold
Elvington
Fintray Hill Climb
Goodwood Festival of Speed
Goodwood
Gurston Down Hillclimb
Harewood Hillclimb
Hoton
Ingliston
Isle of Man TT
Keevil Airfield
Kirkistown
Knockhill
Llandow
Loton Hillclimb
Lydden Hill Infield
Lydden Hill
Mallory Park Combo
Mallory Park Oval Circuit
Mallory Park
Mondello Park International
Mondello Park National
Mondello Park Short Loop
Nutts Corner
Oulton Park Combo
Oulton Park Fosters Circuit
Oulton Park Island Circuit
Oulton Park
Pembrey Track Map
Prestwold Hall
ProDrive
RAF Woodbridge
Rockingham Combo
Rockingham International Circuit Short
Rockingham International Circuit
Rockingham International Supersport Circuit
Rockingham International SuperSport Long
Rockingham National Circuit
Rushmore Arena
Silverstone Combo
Silverstone GP Classic SF
Silverstone GP
Silverstone International Circuit
Silverstone National Circuit
Silverstone Rallycross
Snetterton Combo
Silverstone Stowe
Snetterton100
Snetterton200
Snetterton300
Thruxton
United States of America
Atlanta Motorsport Park
Autobahn Country Club North
Autobahn Country Club South
Autobahn Country Club
Barber Motorsports Park
Belle Isle
Blackhawk Farms
Brainerd Main
Buttonwillow Race 1
Buttonwillow West Loop with Phil Hill
Buttonwillow West Loop without Phil Hill
Buttonwillow
Carolina Motorsports Park A
Carolina Motorsports Park B
Charlotte Motor Speedway Full
Charlotte Motor Speedway Infield
Charlotte Motor Speedway Short
Chelsea Handling Track
Chuckwalla Valley Raceway
Circuit of The Americas
Daytona 24hr
Detroit City Airport
Driveway Austin - Elevation Course
Driveway Austin - Grand Prix Course
Driveway Austin - Short Course
Eagles Canyon Raceway
Fontana Raceway Infield Course
Fontana Raceway Road Course
Fort Devens
GingerMan Raceway
GingerMan T10b
GrandSport Speedway
Grattan
Hallett
Harris Hill Road Raceway
Hastings Motorsport Park
Heartland Park of Topeka A
Heartland Park of Topeka B
Heartland Park of Topeka C
Heartland Park of Topeka Combo
Heartland Park of Topeka D
High Plains Raceway
Homestead Combo
Homestead Modified Road Course
Homestead Oval Course
Homestead Road Course
Inde Motorsports Combo
Inde Motorsports Ranch Full Course
Inde Motorsports Ranch Full North 2
Inde Motorsports Ranch Full North 3
Inde Motorsports Ranch Full North 4
Inde Motorsports Ranch North Course 2
Inde Motorsports Ranch North Course 4
Inde Motorsports Ranch North Course
Inde Motorsports Ranch South Course
Indianapolis Motor Speedway - Indy
Laguna Seca
Lime Rock
Long Beach Street Circuit
LVMS Combo
LVMS Exotics Racing
LVMS Infield Road Course
LVMS Outfield Road Course with Chicane
LVMS Outfield Road Course
LVMS Super Speedway Infield
LVMS Super Speedway
M1 Concourse
Michelin Laurens Proving Grounds
Michigan International Speedway Infield Long
Michigan International Speedway Infield Short
Michigan International Speedway Oval
Mid Ohio Raceway - without chicane
Mid Ohio Raceway
MidAmerica Motorplex
Milford Road Course
Miller Motorsports Park Combo
Miller Motorsports Park East
Miller Motorsports Park Full
Miller Motorsports Park Outer
Miller Motorsports Park West
Monticello Motor Club Combo
Monticello Motor Club Full
Monticello Motor Club Mushroom
Monticello Motor Club North
Monticello Motor Club South
Motorsport Ranch 1.3 mile course
Motorsport Ranch 1.7 mile course
Motorsports Ranch Houston
NCM Corvette Race Loop
NCM Grand Full Course
NCM R&T Course
NCM Short East
NCM West w-hump
NCM West
Nelson Ledges
New Hampshire Motor Speedway Chicane
New Hampshire Motor Speedway
New Jersey Lightning
New Jersey Raceway Park
New Jersey Thunderbolt
Nola Motorsports Park Course A
Nola Motorsports Park
Norway Speedway Dirt Track
Norway Speedway
Oregon Raceway Park
Pacific Raceways Road Course
Palm Beach International Raceway
Palmer Motorsports Park
Pikes Peak Hillclimb
Pikes Peak International Raceway
Pittsburgh International Race Complex Full
Pittsburgh International Race Complex North Track
Pittsburgh International Race Complex South Track
Pocono - 2.5 Mile Road Course
Pocono - Outer
Portland International Raceway
Pueblo Motorsports Park
Putnam Park
Reno Fernley A
Reno Fernley A2
Reno Fernley B
Reno Fernley C
Reno Fernley Combo
Reno Fernley D
Reno Fernley E
Reno Fernley F
Reno Fernley G
Reno Fernley G2
Reno Fernley H
Ridge Motorsport Park
Road America
Road Atlanta Combo
Road Atlanta Short
Road Atlanta
Roebling Road
Sandia Motor Speedway
Sebring Combo
Sebring North
Sebring Short
Sebring
Sonoma Raceway Combo
Sonoma Raceway Indy
Sonoma Raceway Stock Car
Sonoma Raceway with 7A
Sonoma Raceway
Spokane County Raceway
Spring Mountain Raceway
St Petersburg Street Circuit
Streets of Willow Springs
Summit Point Motorsports Park
Talladega Gran Prix
Talladega Superspeedway
Texas World Speedway
Thermal Club South Palm
Thermal Club Twin Palms
Thompson Speedway 1.5 Mile Road Course
Thompson Speedway 1.7 Mile Road Course
Thunderhill East
Thunderhill Raceway Park - 5mile
Thunderhill Raceway Park (With Turn 5)
Thunderhill Raceway Park (Without Turn 5)
VA City Hill Climb
Virginia International Raceway Full course (updated June 7, 2018)
Virginia International Raceway Grand course (updated June 7, 2018)
Virginia International Raceway North course (updated June 7, 2018)
Virginia International Raceway South course (updated June 7, 2018)
Waterford Hills
Watkins Glen
Willow Springs Horse Thief Mile course
Willow Springs
How to load a DSF (start line) file into a Performance Box or DriftBox unit:
Loading single files
Re-name the DSF file you wish to use to 'DBOX.DSF' and place this in the 'DATA' folder on the SD card.
Press the MENU button to enter the Lap timing menu.
Highlight the 'LOAD SPLITS' option and press OK.
A 'LOADING' bar should show and beep when completed.
Loading multiple files
Make sure there is no DBOX.DSF file within the DATA folder, as this will stop the multiple-load working.
Create a new folder on the card named DSF.
Place up to 26 DSF files into the folder (no specific names).
Press the MENU button to enter the Lap timing menu.
Highlight the 'LOAD SPLITS' option and press OK.
Highlight the file you wish to load and press OK.
A 'LOADING' bar should show and beep when completed.