Ebook Extract: Spa Masterclass
Spa Masterclass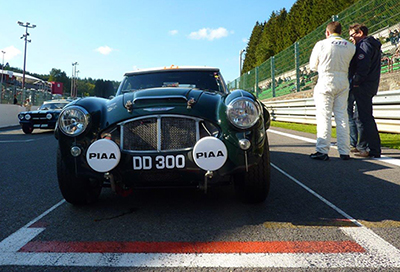 Spa presents a number of challenges to the racing driver, with its blend of fast and slow corners, big elevation changes, and a climate that is changeable at best.
In this article we take a lap round the famous circuit with Nigel Greensall, at the wheel of an ex-works 1960 Austin Healey 3000.
The car is owned by Nigel's long term driving partners Karsten Le Blanc and Christiaen van Lanschot, and has an illustrious past, having competed three times at Le Mans in period. Prepared by Denis Welch Motorsport in the UK, it is the best known race Healey 3000 in the world. This lap was done in qualifying at the Spa Six Hours – a big meeting in September that involves a huge number of some of the best vintage race cars in Europe. The lap is particularly noteworthy because it was the first time that a vintage Healey went round Spa in under three minutes – and at the time of going to press the record still stands. Many of the techniques that Nigel employs throughout form the basis of several of our previous articles, along with some others that we have not discussed. Some of it is innate… in any case, it is truly a masterclass in racing technique.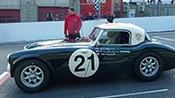 The two hour qualifying period is very nearly at an end when Nigel heads out. The session has been extremely busy with over a hundred cars vying for track position, making it impossible to get a clear track. However, just as it is coming to a conclusion a car has spilled oil at the top of the Kemmel Straight and as a consequence almost all the other competitors have called it a day – the perfect time to have a last gasp crack at pole position.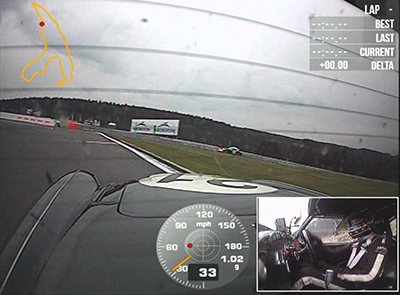 Nigel has just enough time to complete an out lap which allows him to assess the state of the track – and so armed he knows where the hazard lies (indeed, as he cruises round an E-Type goes off the track at Les Combes having hit the oil, and then parks up at Bruxelles), but that the circuit is virtually empty. This reconnaissance is very useful: with knowledge of the current situation, he knows he can drive to the car's limits during the last few minutes of qualifying.
At the end of his out lap, before crossing the start/finish for the qualifying attempt, Nigel executes a Scandinavian flick through the Bus Stop chicane.
"That's the fastest way through there in one of these cars. The induced oversteer allows you to rotate the car through the second apex giving an optimum exit speed and a slingshot onto the start/finish straight, gaining maximum possible velocity for the beginning of the lap."
To read the rest of the chapter please download the whole eBook below:
---