Race Car Data Acquisition
Designed for racing and motorsport, Racelogic's VBOX in-car camera systems combine precision with reliability to deliver unrivalled driver analysis and vehicle development.
With a product for every situation our racing data loggers offer outstanding performance every time.
GPS-enhanced Video
GPS-enhanced video is fast becoming essential in the analysis and performance of both racing driver and vehicle. RACELOGIC's range of VBOX in-car camera systems is widely regarded as the best on-board video and data loggers available, with high video and graphics quality, flexibility, accuracy, ease of use, and reliability.
Real-time Graphical Overlay
RACELOGIC's range of in-car camera systems are fully synchronised and embed a real-time graphical overlay on your video, allowing you to instantly analyse your performance and pinpoint areas for improvement.
Built-in GPS
The internal GPS engine recognises the track you are driving from a built-in database of over 450 circuits all over the world and automatically configures the track map and lap timing without you having to remember to do anything, you just turn up at a circuit and start driving.
Driver Analysis - The quickest way to go faster
Whatever your level the VBOX video systems not only produce exciting videos, but also allow you to carry out in-depth driver and vehicle analysis using Racelogic's powerful yet easy to use Circuit Tools Software.
Multiple Cameras
Multiple camera angles allow you to focus on both your driving technique and the vehicle's performance at the same time, allowing you to improve both areas with just one tool.
No Data Loss
An internal battery allows the current file to be correctly closed should power be lost during recording, ensuring that no data loss or corruption occurs.
Predictive Lap Timing
Our Predictive Lap Timing Display provides drivers with the opportunity to see exactly where they are losing or gaining time at any place on the track.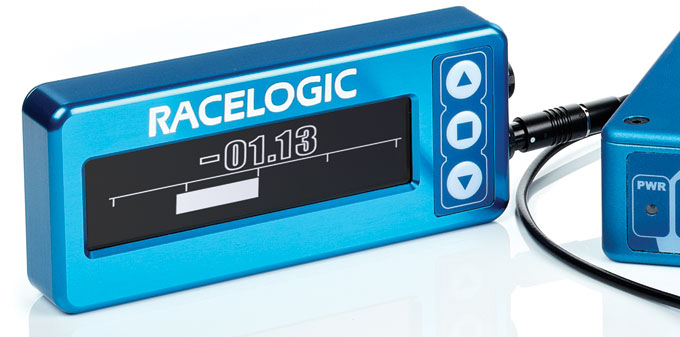 Un-rivalled Support
RACELOGIC offer outstanding support for the lifetime of your VBOX, for free. Our support team are proud of the service they provide, and go the extra mile so you can get the most out of your purchase.
Interested?
Contact Us or your local Distributor.