A light-weight, portable data logger that can be used in any vehicle and environment to measure performance or lap times.
The VBOX Sport can be used as a stand-alone logger or connected to an iOS device via Bluetooth.
Features
20Hz GPS engine
Bluetooth interface to iPhone™ or iPad™
Over 6hr battery life
Internal rechargeable battery
Internal or external GPS antenna
Free Performance Test and Laptimer iPhone™ App available from Apple App Store

Robust, waterproof, lightweight enclosure
USB charging
SD card logging
Herbert Richter mounting system
Free data analysis software
Compatible with Harry's Lap Timer app - iOS and Android
RACELOGIC Apps
RACELOGIC have designed three dedicated iPhone™ apps: Performance Test, LapTimer and Diagnostics. Using the apps with VBOX Sport you can view GPS data that is being logged at 20 times per second and provides a level of accuracy currently unheard of with iPhone and iPad apps.
VBOX Sport Performance Test

Accel / Decel
Speed
VMAX
0-60, 0-100
1/4 mile time
G-force
braking performance
zero to zero times
Free of charge

VBOX Sport LapTimer

Auto track selection
Predicted lap time
Current or maximum speed
Lap times / sector times
Custom circuit creation
Lap data analysis in CT
Range of config options
Designed for both iPhone and iPad
Free of charge

VBOX Sport Diagnotics

Check health of the hardware
Check GPS data reception
Free of charge
Partner Apps
Harry's LapTimer

Harry's LapTimer Grand Prix Edition is required for VBOX Sport connection
Records all types of sensor data provided by your iPhone/iPod/iPad (or external sensors)
Fully Automated GPS-based Lap Timing
Powerful Data Recording
Video Processor
Online database with more than 450 predefined tracks
RaceChrono

Lap timer for circuit and point-to-point tracks
Gauge view of live data
Analysis mode with configurable graphs
Lap list with optimal lap time calculation
Exporting to CSV and NMEA
Bluetooth GPS support for superior accuracy over internal GPS
Support for VBOX Sport
Currently free
SoloStorm

SoloStorm for Android v2.2+ devices allows you to log and analyze GPS, OBD-II, Sensor and Video data all on your smartphone or tablet.

Jog maps, data and videoAutomated sectional analysisOverlay video and data on the device
Compatible with both phones and tablets
Open licensing (run on as many devices as you want)
Porsche Track Precison

Only for 911 GT3 (type 991)
Live display for lap and sector times
Video recording and analysis
Racing stats, speed curve, plotting of detailed driving data (e. g. steering angle, brake pressure, lat/long acc, fuel consumption)
Compatible with VBOX Sport for improved GPS
Analysis in Circuit Tools possible
free
Porsche Track Precison

iLapTimer

GPS Lap timer and race data acquisition software
Perfect for time trial, track day and competition
Shows current lap time, best lap time and previous laps automatically after each lap
Allows the sharing of lap times on Facebook, Twitter, Instagram, WeChat and Weibo
Built-in tracks
$14.99
Interested in developing apps that connect to a VBOX Sport? More information on app development here
Circuit Tools Analysis Software
Circuit Tools is designed by racing drivers for racing drivers, with none of the complexity normally associated with data analysis software.
Watch the video below to see how easy Circuit Tools is to use:
Circuit Tools works with any VBOX Motorsport product and is free to download.
Huge track database
The software automatically detects the country, circuit and track configuration from a database of almost 500 circuits and uses the start/finish line information to separate the laps contained in your recorded file.
The fastest lap from your latest session is automatically chosen and displayed on the graph window. The video is moved to the start of this lap. You can compare runs from this session, or from previous ones simply by clicking on the relevant lap time shown in the session window.
Lap time difference channel
Time difference or 'Delta-T' is a very useful channel that shows the lap time difference between two different laps.

More about Circuit Tools Driver Analysis Software.
Performance Tools
This Windows software allows you to analyse your vehicle's performance in a range of acceleration and braking tests.
To use the data logging, simply insert the 4GB SD card and drive. Once you have finished the test, remove the SD card and place it in a suitable reader.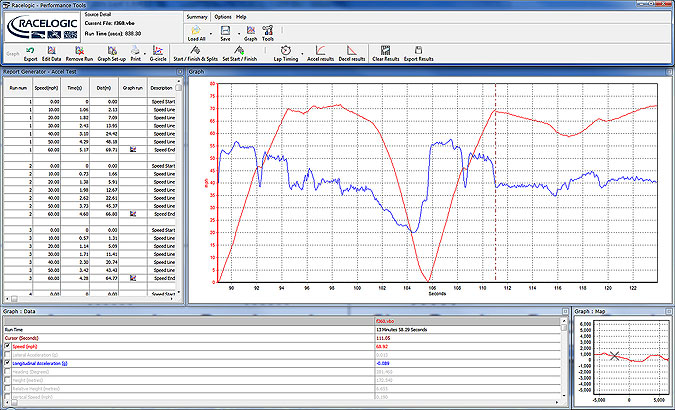 The data is then read into the Performance Tools software, which you can download from the SD card supplied.
Accessories
Suction Mount
The Herbert Richter suction mount can be installed as in-car dash moun, vent mount or as a tilt and swivel mount. Includes mounting plate.

Handle Bar Mount
Easily fix the VBOX Sport onto the handle bar of your motorbike or bicycle. Includes mounting plate.

GPS Antenna
Magentic patch antenna with 3M-MCX connector. Requires a ground plane.
Specifications
Customer Reviews
Genuine customer reviews
Chris Haris - Audi S4 vs RS4 0-100kmh